The trial of the Stansted 15 for terrorism is drawing near to a verdict as the human rights protesters face prison for stopping a suspected unlawful deportation flight.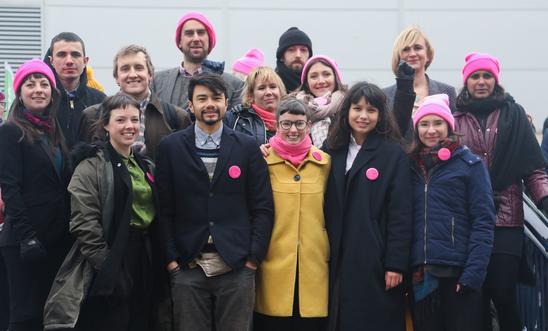 Many other groups have in the past peacefully prevented flights from taking off, whether because of environmental or human rights concerns. The usual charge for such an action has been 'being air-side without permission' or 'aggravated trespass', but for the first time the government is using terrorism laws designed for bombers against non-violent human rights protesters.
Amongst the defendants are our friends Mel Strickland who came on the Buzz Tour and Joe McGahan whose interview you can see on the website about hempcrete. Five other defendants are also well known to me, as kind and highly principled people who have done a great deal for equality and their communities.
A year and a half ago the Stansted 15 entered a remote part of Stansted runway wearing pink, with pink protest banners and locked on to a Titan Airways chartered flight to prevent the deportation of at least two people they knew whose lives would be at risk should they be deported – one a lesbian threatened with death by her ex-husband in Nigeria and one a man whose family had already been murdered. One of these refugees has since been granted asylum. The group Lesbians and Gays Support the Migrants (LGSM) took the action after receiving information about the 15 asylum seekers who were being deported and believing that the Home Office was again acting illegally in it's deportations.
During my observations in court I saw a video of the defendants walking calmly to the plane before any of the passengers had arrived, erecting a three-poled tripod and locking themselves to it and the front wheel of the plane. In another video police were seen laughing and joking with the group after they were locked on. Stories of violent treatment of asylum seekers were heard including handcuffing them to a bus after it caught fire and a man on another flight who was restrained to death. No charges were ever brought against the G4S employees for his killing.
The trial opened with a solidarity protest of around 100 people at the start of October and has been observed throughout by Amnesty International because of their concerns of the use of terrorism laws to punish 'human rights defenders'. All the prosecution and defence evidence has now been given so what follows will be around a week of legal argument before the jury delivers their verdict probably the week after.
You can find out more detail about the trial by reading the daily court blog of End Deportations Now. You will also find a template on their website to help you write to your MP and a rota if you would like to observe at Chelmsford Crown Court.
The dictionary definition of a terrorist is
someone who uses violence and intimidation, especially against civilians, in the pursuit of political aims.
The UK anti-terrorism laws are frighteningly and intimidatingly powerful, people can be detained without charge for months and imprisoned for life if found guilty. You can be dragged through the court system for months or years at huge expense and stress, risking losing your job. Coming close on the heels of the imprisonment of anti-fracking protesters I think we should ask whether we trust our system to wield such power. As powerful laws are twisted into new purposes it is important to remember the meaning of our words and the power they hold. The non-violent actions of LGSM likely saved lives, and they do not deserve to be treated like terrorists for it.